A faculty of eight dedicated and well-trained teachers motivates the students to do their best in their studies. Our two pastors help with the teaching of the Bible's chief parts in Catechism class to Grades 7 and 8. Secretaries, kitchen staff, and janitors help to create a clean, safe, and healthy environment for the children to learn and play in. Numerous volunteers help keep St. Paul's many programs running smoothly.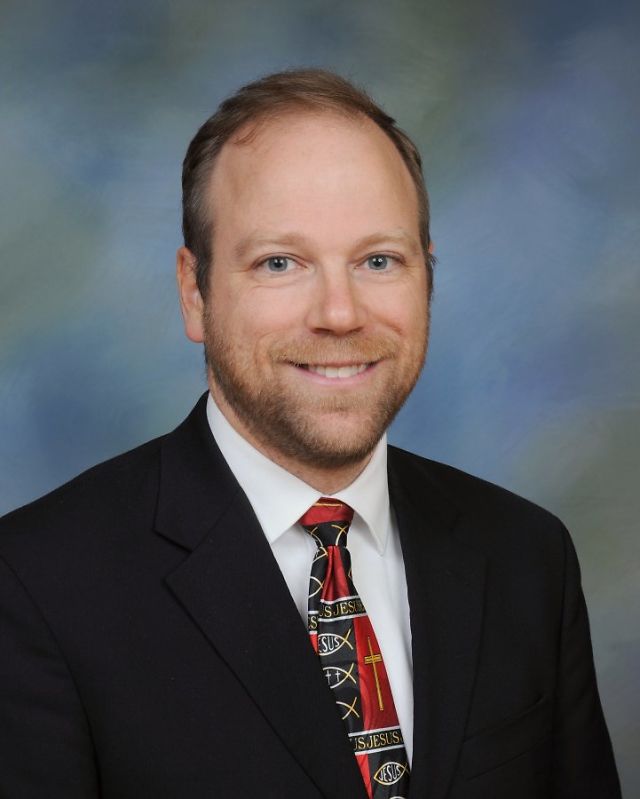 Mr. Kevin Needham, Principal, 8th Grade a.m.
Kevin Needham was born in Chicago Heights, IL, but shortly thereafter his family moved to Appleton, WI, which became his home for fourteen years. Another move brought them to Watertown, WI, and after graduating from Martin Luther College in 2002, Kevin is now raising his own family here in Saginaw.
Kevin enjoys all things musical: bands, choirs, streaming music, trombones, etc. He especially enjoys spending time with his wife, Janna (Thiesfeldt), and their children Olivia, Caleb, Joshua, and Chad. They like time together at home, but also going on little trips to explore Michigan and to visit grandmas and grandpas in Wisconsin and Minnesota.
Kevin truly enjoys all parts of his calling here at St. Paul's: Principal, 7th and 8th grade, band, and adult choir.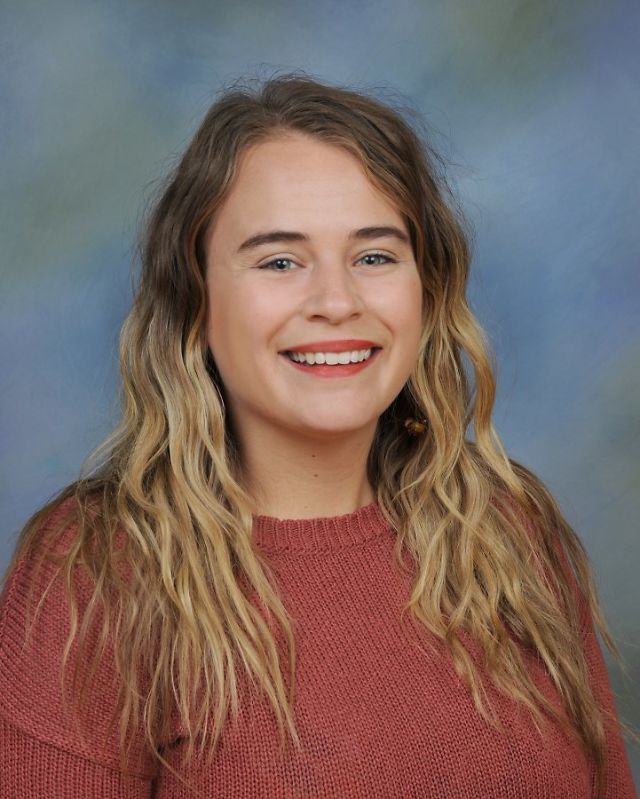 Mrs. Shelby Korth, 4th & 7th Grade (a.m.)
Shelby Anna Korth (Pitt) was born on October 6, 1995 as the youngest of four children. She has two sisters and one brother. Shelby grew up in Chippewa Falls, Wisconsin where her father is the pastor at Our Hope Lutheran and St. John's Lutheran and where her mother teaches 3rd and 4th grade at St. Mark Lutheran in Eau Claire.
Shelby began her grade school education at St. Mark in Eau Claire and continued on to high school at Chippewa Falls Public School. She graduated in 2014 and continued her education at Martin Luther College in New Ulm, Minnesota. She graduated in December of 2018 with a degree in Elementary Education and Secondary Social Studies. Shelby and Samuel Korth were married in June of 2021, and enjoy their shared passion for teaching and are blessed to be members of the same faculty. 
She enjoys history, reading, movies, and board games. She also loves hiking and camping with her friends and family whenever she can.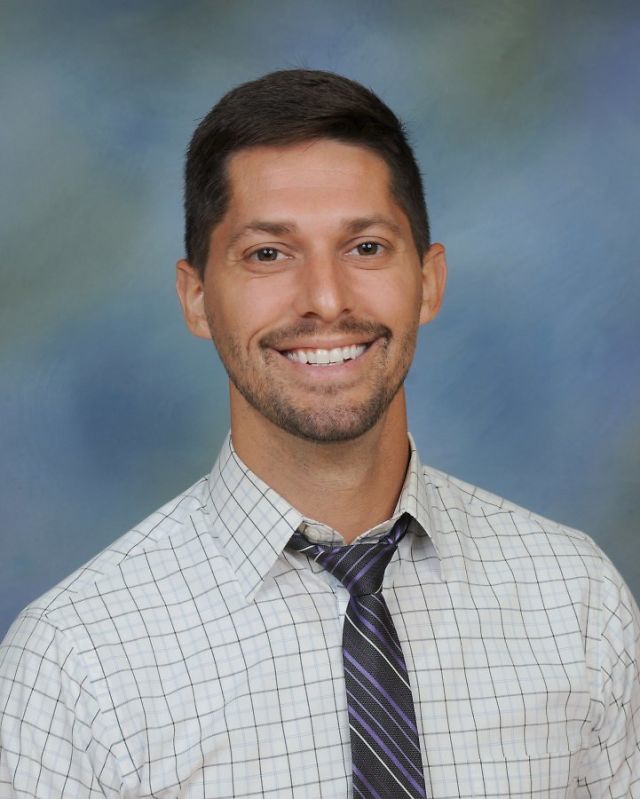 Mr. Samuel Korth, 6th Grade a.m., 8th Grade p.m.
Samuel David Korth was born on March 2nd, 1988 as the fourth of five children. He has four lovely sisters with whom he is very close. Samuel grew up in Bay City, MI where his father, Steven Korth, serves as Pastor at Mt. Olive.
Samuel began his grade school education at Mt. Olive and completed it at Bethel. He then attended Michigan Lutheran Seminary where he played football and baseball, sang in Concert Choir, and played the part of Jud Frey in OKLAHOMA! He graduated in 2006, and continued his education at Delta College with the intention of entering into Michigan State's Turf Grass Management program. He played on the club baseball team for one year. After many visits to Martin Luther College to visit friends, the Lord led him in a different direction. In the Winter of 2009, Samuel enrolled at MLC and began studies in the Elementary Education program. He played baseball for two years and sang in Chorale. Samuel graduated in 2011 with a Bachelors of Science in Education and an emphasis in Physical Education.
He was assigned to Trinity in Belle Plaine, MN serving as teacher of grades 3-4, Jr. Choir, and Music Director. The following year he added on Athletic Director. After four years, he moved to the 5-6 grade classroom. In March of 2017, he accepted the call to serve St. Paul's, Saginaw.
For fun, Samuel enjoys any activity outside whether it be doing some yard work, playing golf, or just messing around in the backyard. He like to stay active. He has completed four Tough Mudders and twice rode his bike from one side of Michigan to the other in one day. He dislikes chocolate with a passion. He loves Michigan football and the Detroit Tigers. He even enjoys falling asleep to the Lions game on Sundays.
Samuel is thankful to have had Christian parents who brought him up in the Word and gave him the opportunity to receive a strong Christian education. Samuel looks forward to serving this congregation and our Lord to the fullest of his abilities.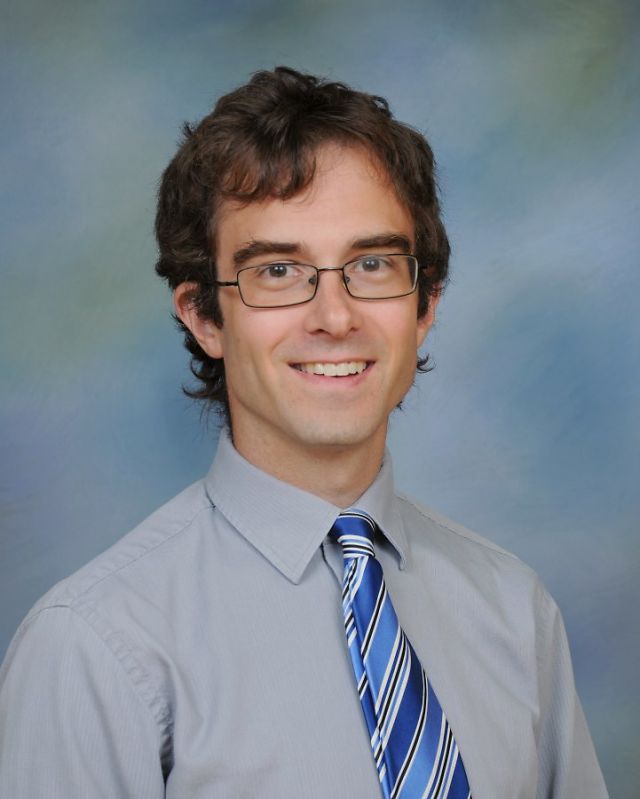 Mr. Jordan Siegler, 5th Grade a.m., 5th/6th Grade p.m.
Jordan Siegler is the 5th grade teacher, school accompanist, and director of St. Paul's Beginner Band. He came from Manitowoc, WI where he attended Manitowoc Lutheran High School. He graduated Martin Luther College in 2014 and started teaching at St. Paul's the same year.
He married Arianna (Salzwedel) in June 2015. She is currently teaching piano lessons and directing band at Michigan Lutheran Seminary. They have been blessed with two children, Evanageline and Georgiana.
Mr. Siegler enjoys strategy games, history, reading, movies, and puns. He also loves listening to music and plays piano, organ, and clarinet.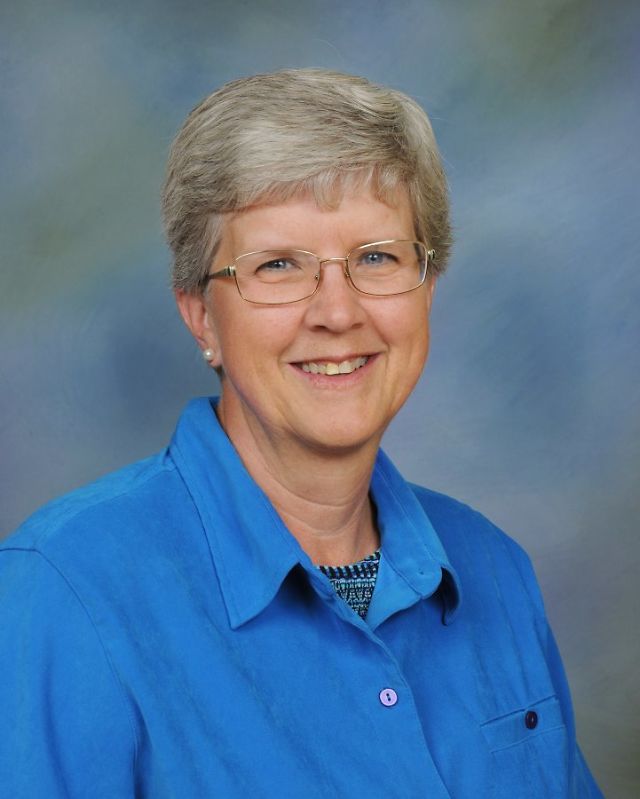 Mrs. Linda Wiles, 3rd/4th Grade 
Linda Wiles was born on February 4, 1960, in Chicago Heights, Illinois. She grew up in Calumet City and later Crete, IL, the only girl with three younger brothers. Her home congregation was Trinity Lutheran Church in Crete.
After high school, Linda attended Dr. Martin Luther College, graduating in 1982. Her first call was to Bethany Lutheran School here in Saginaw. She taught grades 1-4 and 2-4 from 1982-88. She also taught grades 3-5 at Bethany for the 1991-92 school year and grades 6-8 in 1999-2000. She has taught at St. Paul's since 2002.
Linda met Bob Wiles (the older brother of one of her students!) at Bethany, and they married in July of 1987. Linda and Bob have a daughter, Amanda, who graduated from Martin Luther College and is married to Christopher Johns, who is a pastor at St. Matthew in Pound, Wisconsin. Amanda and Chris have 2 daughters, Natalie and Lydia.
In her spare time, Linda enjoys reading, scrapbooking, and spending time with family.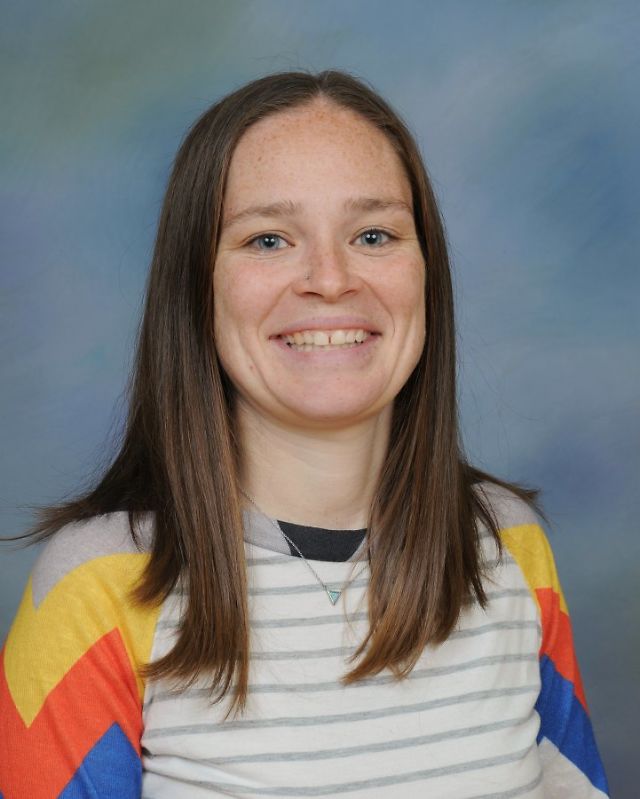 Mrs. Kadie Westendorf, 2nd grade
Kadie was born and raised in Adrian, Michigan. She attended Madison High School in Adrian and Martin Luther College in New Ulm, MN. Kadie graduated from MLC in 2012 with a degree in Elementary Education with an emphasis in Physical Education. Kadie was assigned to serve as the 1st & 2nd grade teacher for 1 year at Zion Lutheran School in Monroe, MI. After completing her year at Zion, she married Dan Westendorf and moved to Warren, MI where Dan was assigned to be the Pastor at Crown of Life Lutheran Church. In 2014 Crown of Life extended Kadie a call to serve as Preschool Teacher and Director. Kadie served in that position until 2020.
During the 2020-2021 school year Kadie served as the 3rd and 4th grade teacher at Divine Grace Lutheran School in Lake Orion, MI while Crown of Life built a new school! Dan accepted his call to serve as Professor at Michigan Lutheran Seminary and their family relocated to Saginaw in January 2022. Kadie was extended and accepted her call to teach 2nd grade and serve as Athletic Director at St. Paul's Lutheran school in March 2022.  
Kadie and Dan are blessed with 3 children; Levi (6), Lydia (4) and Lucas (1). She enjoys coaching track at MLS in the spring. In her free time Kadie enjoys watching sports (Lions, Red Wings, Tigers, Spartans and USWNT soccer), camping, running, and reading in her hammock.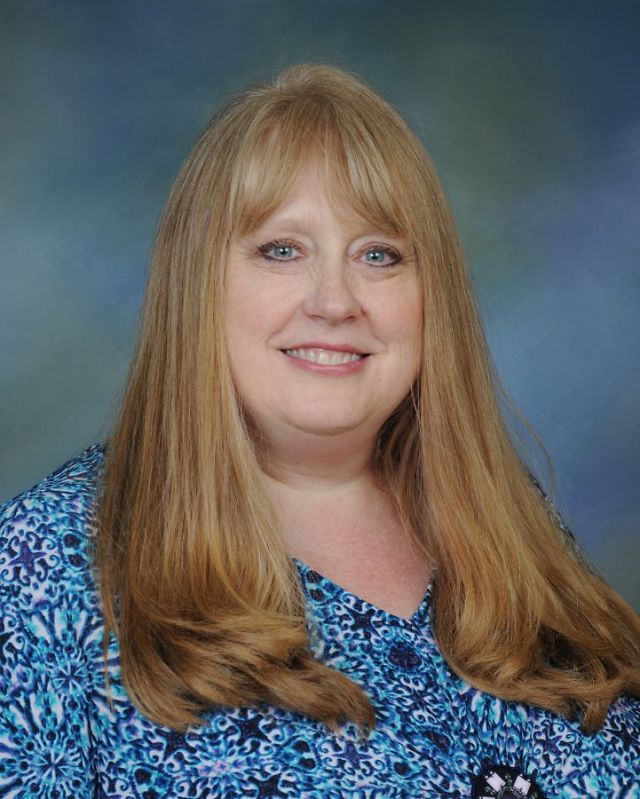 Mrs. Jennifer Bovee, 1st Grade
This is Jennifer's 17th year teaching 1st grade.   She grew up in Green Bay, Wisconsin. Her father was a WELS school principal and teacher. Her mother was also a Kindergarten teacher in the WELS schools. Jennifer graduated from Fox Valley Lutheran High School and went on to attend college at UW/Green Bay to become a teacher.
After a few years of public college, Jennifer decided that she could not imagine teaching children without being able to share God's Word with them. Therefore, she transferred to Martin Luther College and earned her teaching degree, graduating in December of 1996.
She received her first teaching assignment after graduation and began teaching Kindergarten and 1st grade at Zion Lutheran School in Chesaning, Michigan. The next year, she taught 1st and 2nd grades in Chesaning, and the year after that she taught K, 1, and 2. She continued to teach these grades in Chesaning for about 10 years.
She met her husband Michael, who was a member at Zion in Chesaning, and they were married in July of 2003. Their daughter, Olivia, was born in August of 2006. Following her daughter's birth, Jennifer decided that she wanted to stay at home and take care of Olivia.
When Olivia began school at St. Paul's, Jennifer volunteered in the school library. She also did some substitute teaching at St. Paul's and other WELS schools. She received and accepted the call to teach 1st and 2nd grades in spring of 2017.  Jennifer feels very blessed by this wonderful opportunity to serve her Savior by teaching his precious lambs here at St. Paul's. She prays the Lord will bless her teaching ministry, and thanks the members for all of their prayers and support.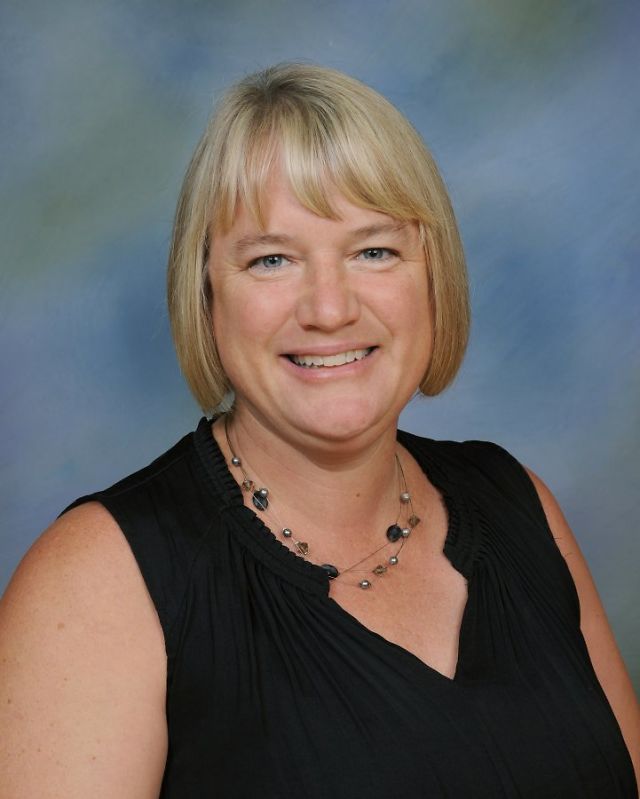 Mrs. Kimberly Schroer, Kindergarten
Kim Schroer was born in Saginaw, but moved to St. Charles at the age of five, and enjoyed growing up in this wonderful small town. She has been a member at St. Paul's since 1993.
Kim attended Central Michigan University, graduating in 1998, and then taught kindergarten and 5th grade in the Chesaning and St. Charles school districts. After graduating college, she moved to Saginaw to raise a family with husband Dan. She enjoys being a mom to their three children (Madison, Sydney, and Jackson), vacationing with family, socializing with friends, and scrapbooking.
After being home with her children for 10 years, she started to get back into the teaching field as a substitute teacher. Kim truly enjoys attending church and having her children attend our wonderful school, and feels very blessed to be on the faculty at such an amazing place with terrific people.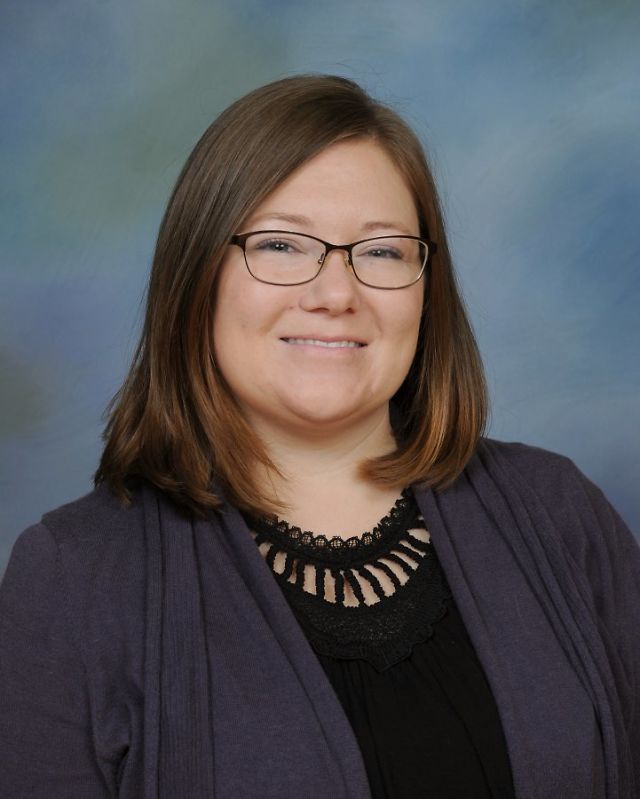 Mrs. Emily Grant

, School Secretary

stpls@stpls.org